Fitness Media
Articles, Interviews and Performance Videos
Regular Exercise & Healthy Food = Fitness, Health & Weight Control!
Want to:

Exercise & work out at home?
Tone & define your muscles?
Burn fat & lose excess weight?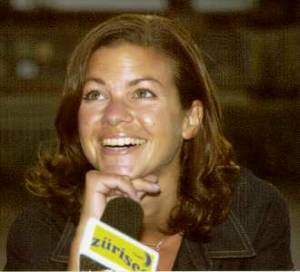 First press report about this site:
Fitness-Königin Tanja Baumann (29) hat eine nagelneue Webseite: www.tanjabaumann.com.

Ihr Credo: "Fitness muss vor allem eines riesigen Spass machen!"

Blick, André Häfliger, 19/08/03
Tanja's interview on the TeleZüri program TalkTäglich program 28th June, 2012:
First anorexic, then two times world champion aerobic fitness. In 2010 Tanja Baumann was diagnosed with osteoporosis and ADHD. Nevertheless, she dared to make an incredible comeback as an athlete. What the ambitious resident of Zurich has achieved borders on the miraculous. But the single mother of an eight-year-old son has demonstrated that anything is achievable with an iron will. Despite her health problems, she gained ninth place at this year's Universe 2012 Miss Fitness championship.
For her personally, her most important victory!
RealMedia streaming video of her interview with Oliver Steffen:
Mouse right-click and select "play". Playing time: 23 minutes and 25 seconds



Haven't got RealMedia Player? Download the latest version here.
Video Downloads:
Tanja Interpretation - Kür von Marco Polos Musik
aus dem Film «Secrets»: Scateathon 2002




10.1 MB, .mpg.
Photos: David Schildknecht | Peter Wullschleger
© Tanja Baumann 1996 - 2018
Site Updated: Thursday, 09-May-2019 04:03:35 EDT