Fitness Help and Frequently Asked Questions
Regular Exercise & Healthy Food = Fitness, Health & Weight Control!
Want to:

Exercise & work out at home?
Tone & define your muscles?
Burn fat & lose excess weight?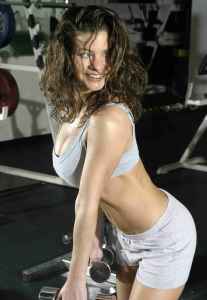 Please Contact John
if you have any accessibility
problems with my site -
he will try to solve them.
Suggestions for viable site
accessibility improvements
will be acted on urgently.
Love,
Tanja
Use the navigation bar links on the left and right of all pages, the links on the individual pages and the header and footer bar links. All these links point to main group pages, each of which provides further subject-related links.
Additional link information content is available on all links labeled with

»

(right angle quote or guillemot right) in the left and right navigation columns - hover over the link and the extra information will open in a blue box.
After you have visited these links, the additional information will no longer appear.
Three site maps are available to help you find pages on this site:
Google translation and site or web search services are positioned in the navigation bar top right on all site pages.
Subject-related page links associated with a main group page are shown in the left navigation column, near the bottom of the column. On some (smaller) pages, these links are displayed in a box at the end of the page content.
Where relevant, fitness information pages are linked to a Low Graphics alternative version. If available, always positioned as the first link in the navigation column on the left.
Some pages have been translated into German - if available, always positioned directly under the low graphics link top left or top if a low graphics version is unavailable.
Usability and Accessibility
Web Standards Compliance
As far as we know, this site is fully compliant with web standards requirements.
Layout and appearance of the site are based on Cascading Style Sheets - CSS. However, it will display reasonably well if CSS is not supported by your browser.
You are welcome to check our site compliance by viewing either the result pages below or copy and paste « www.tanjabaumann.com » on the individual submit query pages:
What About the Kids?
Children are welcome on Tanja's site and our site suitability for children has been rated by:
Have fun, enjoy Tanja's site and stay fit!
John
Site Map - 1 > Site Map - 2 > Sitemap - Deutsch > Help & F.A.Q.
© Tanja Baumann 1996 - 2021
Site Updated: Monday, 05-Apr-2021 10:24:25 EDT