Fitness, Aerobics and Health Academy Studio and Facilities
Regular Exercise & Healthy Food = Fitness, Health & Weight Control!
Want to:

Exercise & work out at home?
Tone & define your muscles?
Burn fat & lose excess weight?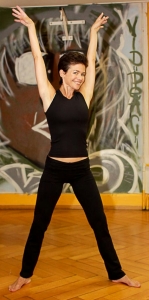 Jugendhaus Sust (2. Stock)
Seestrasse 90
CH-8820 Wädenswil
Switzerland
I rent premises from the City of Wädenswil, Canton Zürich, Switzerland, at the local Youth Center.
The Academy Studio is equipped with a beautiful wooden floor, large windows and mirrors, and provides the perfect setting for all types of aerobic and fitness activities.
I use my studio for:
Privacy, so that I can
e.g. rehearse my personal appearances, design new aerobic choreography or just enjoy my music.
Give interviews for television, radio and print media.
I teach the following class in my studio on Mondays:
As an aerobics instructor, I believe that fitness should be fun - if you enjoy an activity, it's always easier to carry on doing it as a regular routine.
You can also work out with me in your own home -
View complete information @ DVD IN SHAPE with Tanja Baumann.
Need more information?
Visit the Academy Library, Tips and Links Page.
© Tanja Baumann 1996 - 2021
Site Updated: Monday, 05-Apr-2021 10:24:25 EDT