Fitness Shop: Workout DVD and Model Photo Galleries
Regular Exercise & Healthy Food = Fitness, Health & Weight Control!
Want to:

Exercise & work out at home?
Tone & define your muscles?
Burn fat & lose excess weight?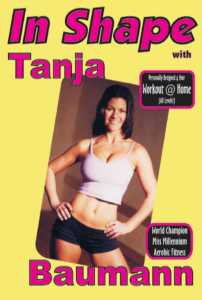 Get the IN SHAPE Fitness Facts
The IN SHAPE with Tanja Baumann, in-home aerobic fitness workout DVD is:
Available in 4:3 format
Playable worldwide - no country code!
IN SHAPE DVD Enables You To:
Exercise in your own home, at a time that «fit's» you;
Build up your endurance and burn fat!
Tone your muscles to get you in top shape;
Improve your flexibility through stretching and breathing techniques.
Payment Information for DVD IN SHAPE Buyers:
Use your Credit Card or an eCheck:
We use PayPal security for all Credit Card and eCheck payments - fast, free and secure and you don't have to be a PayPal member to use their services!
Complete the details, submit your payment and we will despatch your DVD on receipt of the PayPal payment notification.
Bank Transfer Information:
Transfer € 17.49 (includes € 2.50 postage) to:
Rabo Bank - IBAN no. NL80 RABO 0167 1217 58,
Rabo Bank - if required - BIC (Swift Code) number RABONL2U,
Beneficiary - Stichting IN SHAPE, Account Number 1671.21.758,
Schijndel, The Netherlands.
Please mark the payment "DVD" and include your delivery address.
Please contact my webmaster to confirm that you have made the payment and include your delivery address - just in case!
We'll despatch your DVD on receipt of the bank payment notification.
Delivery Time:
Europe - 2 / 5 days.
Other continents - 7 / 14 days
Fitness Model Photo Galleries
The Tanja Baumann photo galleries are arranged by photographer. The photos are Tanja's favourites and were personally selected for gallery inclusion by Tanja. If you are:
A fitness, aerobics, aerobic fitness or body-building athlete searching for a pose.
A fitness, aerobics, aerobic fitness or body-building fan in search of a souvenir.
A sports lover who appreciates art in movement.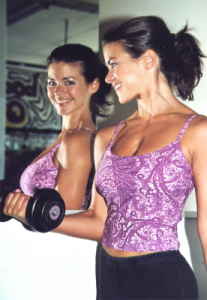 Fitness Model Photo Gallery Links
You will find the photo(s) you want in the fitness model photo galleries -
complete with links to the full-size original photographs and free of any charge for home-use.
Searching for fitness and exercise equipment for your home, gym or aerobics studio? Visit our shopping links pages to find what you are looking for:
Photos: Stef Schellekens | Bruno Torricelli | Stephan Ziegler | Rolf Edelmann
© Tanja Baumann 1996 - 2021
Site Updated: Monday, 05-Apr-2021 10:24:25 EDT