Tanja Baumann Aerobic Fitness, Aerobics and Miss Fitness Championship Titles
Regular Exercise & Healthy Food = Fitness, Health & Weight Control!
Want to:

Exercise & work out at home?
Tone & define your muscles?
Burn fat & lose excess weight?
A big hello to all my fellow athletes - I'm so glad you made it here!
As we both know, winning sports championship titles as an athlete and competitor requires hard work, perseverance, effort, determination and motivation.
In the last two years I competed in the:
Swiss Championships 2013 on the 26th of October. There's a streaming video, video for download, championship performance slideshow, stage action photos and backstage photos for you to view on: Swiss Championships 2013 and more pictures in the Moritz Hager Photo Gallery.
World Championships 2012 on the 10th of November. View the performance movies and some of the backstage photos on: World Championships 2012.
Universe 2012 Miss Fitness category on the 9th of June. Enjoy the performance video stream and some of the backstage photos on: Universe 2012.
If you think it will help your competitive efforts in any way, please feel free to view, enjoy and use any video or photo slide show available on my Championship Pages.
I hope that the videos and photos you use will help you during your training to become a champion - and win your own titles!
I will support your quest to win titles -
but Miss Millennium Aerobic Fitness is reserved for a while!
Lets exchange links!
Contact me with your site details and athlete / competitor titles.
Do you want to train with me?
Book me as your personal trainer in Switzerland
or sign-up to train with me online.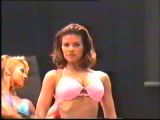 The Miss Millennium Aerobic Fitness Championship took place at FIBO, in Essen, Germany, May 2000.


Please Visit:
The World Aerobic Fitness Championship was held in Palanga, Lithuania, June 1998.
Please visit:

View the Competitor Slide Show
Download the Performance Video



Learn more about Switzerland:
Championship Competitor / Athlete Video Clips: Judy Aarsen | Walter Baumann
Photos: Kilian Kessler | Sabine Weeke | Bruno Torricelli | Judy Aarsen | Walter Baumann
© Tanja Baumann 1996 - 2021
Site Updated: Monday, 05-Apr-2021 10:24:25 EDT