Home Workout Exercise Program
Regular Exercise & Healthy Food = Fitness, Health & Weight Control!
Want to:

Exercise & work out at home?
Tone & define your muscles?
Burn fat & lose excess weight?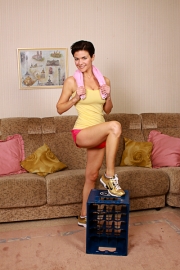 Home Workout
Exercise Program
Hi there!
This home workout was designed for the readers of Glückspost Magazine (Publication date: 22-12-2010).
I created it in my own living room especially for all of you who want to get - or stay - fit in your own cosy home!
The exercise program, for which you can use various items of household equipment, is an easy to follow but effective training workout. Have fun!
Training Intensity
Beginners: 1 set, 6-8 repetitions.
Advanced: 2 sets, 10-12 repetitions.
Not sure where or how to start getting in better shape?
Start at home with my coaching and guidance -
View the fitness facts about DVD IN SHAPE:
Concept: Tushita Jeanmaire | Exercise Program: © Tanja Baumann | Photos: Jürg Gubler
© Tanja Baumann 1996 - 2021