Football Stars Fitness Check
Regular Exercise & Healthy Food = Fitness, Health & Weight Control!
Want to:

Exercise & work out at home?
Tone & define your muscles?
Burn fat & lose excess weight?
Football Stars
Page Content
Links
TAKE IT OFF!
David Beckham or Didier Drogba?
Ronaldinho or Ruud van Nistelrooy?
Which soccer player has the most beautiful body?
And which players have the best trained torso?
Take off the football shirts - it's Body Check time!
The Fitness Expert:
Tanja Baumann
This 31 year-old knows what she's talking about.
She began with aerobics at 15 years of age.
A resident of Zurich, Switzerland, Tanja won the World Champion Aerobic Fitness Titles in 1998/1999 and 2000.
In this article for Sport Magazin, Tanja judges the fitness training level and football-specific trained torso of nine well-known football players in the following photographs.
«I would like to stress however that judging from photos only is not very simple», says Baumann, who became the mother of a son last December.
More information about Tanja Baumann and her activities is available at www.tanjabaumann.com.
Ruud van Nistelrooy

Bare Your Chest:
Football Stars
Fitness Check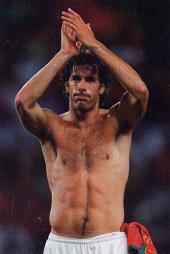 David Beckham
is not only a highly gifted football player, he also has a sexy body.

But is he also the most fit?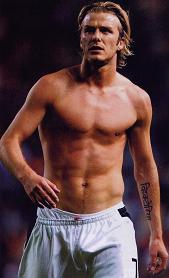 Nine Professional Football Players
Undergo the «Bare Chest»
Body Check
Age: 30
Nationality: Brazilian
Club: Hertha BSC
The Fitness Expert:
«Marcelinho will rarely be found in the power training gym room. He trains specifically for football only - and not very regularly either.»
Age: 20
Nationality: Portuguese
Club: Manchester United
The Fitness Expert:
«Ronaldo has an extremely trained back. But a football player doesn't use an impressive V. You can see that he spends a lot of time in the gym.»
Age: 29
Nationality: Dutch
Club: Manchester United
The Fitness Expert:
«Van Nistelrooy's figure works very naturally. It doesn't have exaggerated musculature, but it's masculine and works very strongly.»


Age: 30
Nationality: Englishman
Club: Real Madrid
The Fitness Expert:
«Beckham is well trained and he does not have an inflated torso. For his type of sport probably optimal.»
Age: 27
Nationality: Ivory Coast
Club: FC Chelsea
The Fitness Expert:
«Beautiful shoulder and neck musculature. Drogba is extremely well trained - plenty of training time, possibly genetically conditioned.»
Age: 28
Nationality: Bosnia
Club: Bayern Munich
The Fitness Expert:
«A beautiful back. But Salihamidzic is very lean and has nearly no fat. I hope that he has sufficient energy for playing football matches.»


Age: 23
Nationality: German
Club: FC Schalke 04
The Fitness Expert:
«Kuranyi is slightly built, but well trained. His stomach is almost perfect.
To improve it would be very difficult to achieve.»
Age: 24
Nationality: French
Club: FC Liverpool
The Fitness Expert:
«Very masculine and muscled. Probably attaches great importance to his body.
Cisse is totally trained, though his genes probably also play a part.»
Age: 25
Nationality: Brazilian
Club: FC Barcelona
The Fitness Expert:
«Ronaldinho could develop and train his chest muscles further with push-ups and bench press repetitions.
But this does not mean that he is not fit.»
Not sure where or how to start getting in better shape?
Start at home with my coaching and guidance -
View the fitness facts about DVD IN SHAPE:
Text: © Tanja Baumann | First published: © Sport Magazine, August 2005, Photos: Imago (9), EQ Images, Reuters, Kurt Schorrer | Translation & Adaptation: John Aarsen
© Tanja Baumann 1996 - 2021