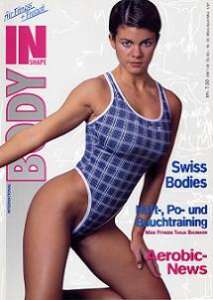 Training at Home
Training in a
Fitness Studio
Training with Tanja Baumann - the «Problem Zones» Workout
Miss Fitness Tanja Baumann demonstrates her personal HIPS, BOTTOM, STOMACH AND THIGHS exercises.
The life of Swiss Aerobic Champion and Miss Fitness Switzerland Tanja Baumann (Wädenswil, Zürich), has been totally out of routine in the last few weeks and months.
Appearances at congresses and on TV, fitness studio re-openings, interviews, photo-shoots, articles in the press - everybody wanted something from the successful multi-talent.
But at the same time, the 22-year old has to train regularly to maintain her aerobic fitness level for aerobic top sport.
For example, one of her current goals is to win the Swiss Aerobics Champion Mixed Pairs title at the next Swiss Aerobic Championships, when the Mixed Pairs competition will be held for the first time.
Postscript: Tanja won the 1997 Mixed Pairs, Ladies Solo and Miss Fitness Titles, thus successfully defending her 1996 Ladies Solo and Miss Fitness Titles and adding the Mixed Pairs to her Title collection.
Obviously, Aerobic Instructor Tanja also does a lot of muscle training - ultimately she would like to keep her tight body in shape for many years to come.
For BODY IN SHAPE Magazine, Tanja demonstrates her «Problem Zones» Workout.
DON'T FORGET TO WARM UP!
Keep a bottle of water handy and sip when you need to.
All routines «must» be carried out slowly to get the best results.

Exercises for Training at Home
These photos demonstrate the end position.
Please Don't Forget Your Mat!
Raise your leg slowly, without flexing the upper torso, until your upper body forms a straight line with the thighs. Lower the leg until the knee barely touches the ground. Repeat.
Do the same routine with the other leg.
So Simple - and So Effective!
Repeatedly lift and lower the pelvis, without using your legs, arms or upper torso.
With each raise, you will feel the muscles working in the entire pelvic area of your body and feel the effectiveness of the exercise!

Leg Pull-up - Crawl Swimming Stroke
Raise and lower your leg slowly, using the buttock and back thigh muscles only. Only a short movement is possible. Afterwards, repeat with the other leg. Keep your waist and stomach flat on the ground - do not raise them!
Please, Don't Fall Asleep!
Raise and lower the upper leg to just above shoulder height. Repeat with the other leg. You can increase the resistance with ankle weights.
Exercises for Training in a Fitness Studio
Strong and taut abdominal muscles look attractive and are essential for good posture and body alignment - by the way, they look great on men too!
Of course, your training efforts will be worth even more if the fat pads are reduced at the same time, so that your newly trained belly muscles can be seen...
Tanja says: you must avoid a hollow back and never pull with the hands on your head.
Carry out as many repetitions as you possibly can - then take a short break.
After your break, proceed with the same routine or change to another belly exercise and take it from there.
These photos demonstrate the end position.
Put Some Fire in Your Tummy
Flat on your back, feet slightly apart, in line with the hips:
Gently raise your upper body, pushing forward with the arms and consciously flexing the stomach muscles.
Then back again.
For a Slim Waist
Flat on your back, feet slightly apart,
approximately in line with the hips:
Pull your shoulder diagonally toward the opposite knee.
Alternate the movement with the other side of your body.
One for the Advanced Levels!
Flat on your back, legs raised and closed:
Simultaneously raise and lower your shoulders and pelvis.
Repeat.
Not easy to execute, but very effective!
Your Lower Stomach Area Will Thank You...
Flat on your back, legs raised and closed:
Lift your pelvis, ensuring that the legs pull straight upward, not behind you.
Repeat.
A firm backside gets numerous admiring looks.
But: nothing ventured, nothing gained, so Top Sport Athlete Tanja attaches great importance to regular bottom training.
As you can see, with great success...
These exercises all require 20 to 25 repetitions for optimum results.
If you have nothing against some muscle growth:
Add as much weight to Tanja's Secret Tip (Routine no. 2) and the Leg Press (Routine no. 3) so that no more than 10 to 12 repetitions are possible.
These photos demonstrate the exercise opening position on the left of the explanatory text and the exercise end position on the right of the text.
Truly Feminine...
Keep your body straight and upright.
Pull the stretching leg with your buttock muscle slowly to the rear.
Avoid a hollow back and any other movements.
Tanja's Secret Tip...
Move one leg to the rear till the other thigh is approximately horizontal.
Alternate left, right, left... Do with or without weight, depending on your strength.
This exercise also shapes and tones the leg muscles.

Now We Work the Thighs
Feet positioned at shoulder breadth and pointing slightly outward.
Press till the legs are almost stretched, then back again.
This zone causes a lot of concern among women.
Regular training increases the muscle tension, which results in a visible improvement in body shape.
You will get the best results with 20 to 25 repetitions.
Select an appropriate weight for your fitness level.
Start
End

Looks Easy - However...
Do not use too much weight and exercise with slow,
concentrated and controlled movements.


Trained inner thighs give your legs a beautiful shape and make the legs appear slim.
Start
End

Unusual, But Very Effective!
You can only make a short movement with this exercise.
Use little weight and carry out slowly.


Not sure where or how to start getting in better shape?
Start at home with my coaching and guidance -
View the fitness facts about DVD IN SHAPE: