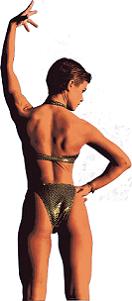 Fitness Tips for a
Healthy Lifestyle
You now know what to eat plenty of, you have sworn off the booze and you are prepared to take action about your fitness level.
So let's talk about your training program.
Differentiate between endurance and strength training.
If you want a slim and shapely body, then you need to use and exercise your muscles.
Balanced nutrition and the avoidance of alcohol alone won't get you the result you're aiming for.
You will certainly lose some weight with a nutritious, non-alcoholic diet - but the problem is that you will lose both excess fat and muscle mass!
To achieve your fitness goal, Active training for fat burn is essential!
Training Intensity
Never over do your training intensity and always:
Pause and hold at the end of every exercise movement.
Train with a training buddy, especially if you're weight training, to help support you when necessary.
My Fitness Tip
Start training on an Exercise Bicycle / Spinning, or try the StairMaster / Stepper in your local fitness studio.
This type of aerobic exercise is not only very beneficial to your cardiovascular system (Cardio-Training 1 and Cardio Training 2), but it's also lot's of fun!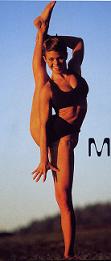 If the atmosphere of a fitness gym or studio doesn't «quite fit» you, there's nothing to stop you from doing most strength exercises in the comfort and privacy of your own home.
Always ask for information, without any obligation of course, from your aerobic or fitness studio before committing yourself to membership.
Many studios will offer you a try it out session free of charge, so you can see what it's like and whether the studio suits you.
Use these offers, so that you get an indication of your level of fitness and complete your whole body training exercises safely and correctly under the attentive eye and guidance of a professional fitness trainer.
Your Motto Should be:
Once is Not Enough!
Training for your personal well-being without any sports competition considerations?
Then you should train twice a week, one hour per training workout - maximum!
More time and exercise does not lead to better results in the beginning.
A « need for speed » is totally out of place in this respect.
If you are over-trained, you'll notice it very quickly: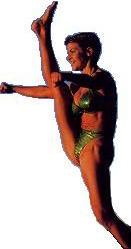 You feel weak and washed out, sleep badly and don't seem to have the power and energy to handle life's everyday events.
If that's happening to you, put on the brake immediately!
Sometimes, Less is More!
Spoil yourself with rest days and enjoy them, just as you do your training days.
I highly recommend Meditation exercises on rest days.
It was not written in vain that:
mens sana in corpore sano!
A Healthy Mind (Lives) in a Healthy Body!
Both mind and body are important if you want to be fit!
Not sure where or how to start getting in better shape?
Start at home with my coaching and guidance -
View the fitness facts about DVD IN SHAPE: