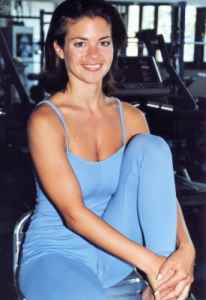 14 ounces muesli mix (oat flakes, raisins, sunflower seeds, nuts and corn flakes).
1 pint skim milk
8 ounces low-fat yoghurt
8 ounces low-fat fromage frais (curd cheese)
1 large grated apple
2 medium bananas
2 tsp. honey
Weight Conversions - Approximate
14 ounces = 400 grams
8 ounces = 225 grams
1 pint = 500 milliliter
Gently hand-stir the ingredients, while slowly adding the milk for texture.
Wait 10 to 15 minutes to let the mixture set.
Fill 6 to 8 bowls and enjoy!
Jennifer from Canada had read about Tanja and scoliosis in Brad Schoenfeld' book, Look Great Sleeveless, published in 2002.
The book also contains interviews with, and recipes from, top fitness models who had been personally invited by Brad to participate.
You've read the recipe, the interview with Tanja follows hereunder.
My Story: True confidence is about you and not just your body.
Whatever your reflection in the mirror, you are always the same person and our bodies are just our tools for a healthy life.
Treat your body as a home you want to live and feel comfortable in.
Don't try to control your body too much. You're beautiful! Use fitness as a way of life.
Achievements: Miss Millennium Aerobic Fitness 2000, World Champion Aerobic Fitness 1998/99.
«What motivated you to begin a weight-training program? How old were you when you started?»
After a few years in classical ballet when I was about 4 years old, I got into jazz ballet, then aerobics (as an instructor) and began weight training due to my scoliosis and passion for higher physical fitness achievements.
«How do you feel about using nutritional supplements?»
Never have - don't know - and never want to.
«Do you have a "power" food?»
Chocolate! Especially Swiss chocolate. Lots of it!
«What other types of physical activity do you do to diversify your fitness regimen?»
I teach a wide variety of classes such as cardio kickboxing, salsa, hip-hop, body pump, step and kids dance, and I live to swim and go for long walks in nature.
«How do you reward yourself after a great workout?»
Being able to train hard and pain-free is enough. Of course, I always enjoy my food at the end of the day!
«Do you have any training tips you'd like to pass on?»
Train every part of your body, whatever your shape or size. Focus on each muscle group and concentrate. Keep your workouts short (max. 1 hour) but intense and enjoy feeling strong!
Not sure where or how to start getting in better shape?
Start at home with my coaching and guidance -
View the fitness facts about DVD IN SHAPE: