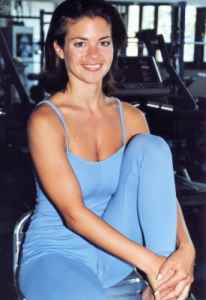 Learn more about Scoliosis
E-mail from Jennifer, Canada, 13 February 2004
I read in a book that you started training to help your scoliosis.
I also have curvature of the spine in my mid-lower back and also a slight curve between the shoulder blades.
I have noticed that there is more muscle on one side compensating for the curve.
Are there any specific exercises that would improve the overall health and appearance of the back?
Scoliosis Answer:
I can totally sympathize with your worries regarding compensation of certain muscle groups due to the slight curve in your spine.
My most important advice to you is to have a personal trainer regular check to ensure that you're using the correct technique during exercise.
When exercising, keep your shoulders level at all times and exercise with mirrors if possible.
Remember to change your shoulder from right to left regularly when carrying your handbag.
Even better: use a backpack!
Ensure good body alignment with regular abdominal exercise two to three times a week.
Remember: nobody's perfect.
Most people have a slight physical imbalance in particular parts of the body.
As long as you are aware of your strengths and weaknesses, you'll be able to compensate for your problem area.
Contact your doctor or ask him to recommend a physiotherapist / personal trainer who could help you work on the weakest part of your back.
Main thing: keep on moving and enjoy it!
Not sure where or how to start getting in better shape?
Start at home with my coaching and guidance -
View the fitness facts about DVD IN SHAPE: