Tanja Baumann: The Purrfect Photo Gallery
Regular Exercise & Healthy Food = Fitness, Health & Weight Control!
Want to:

Exercise & work out at home?
Tone & define your muscles?
Burn fat & lose excess weight?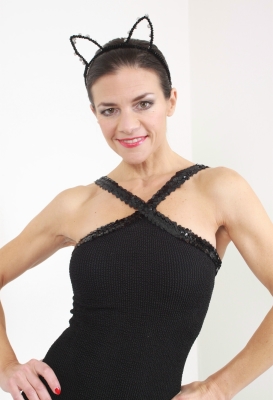 The Purrfect Photo Gallery is a selection of photographs taken by Jürg Gubler with me posing as a purrfectly happy catlady.
These are my personal favourites and I hope you will enjoy them, as I enjoyed posing for them!
If you are:
An aerobics, aerobic fitness or bodybuilding athlete / competitor searching for a pose.
A bodybuilding, aerobics or aerobic fitness fan / photograph collector.
A sports lover who appreciates art in movement.
You will find the exercise and posing pictures you want to see in the aerobic fitness, aerobics and bodybuilding photo galleries.
© Tanja Baumann 1996 - 2021