Personal Fitness Trainer Online
Regular Exercise & Healthy Food = Fitness, Health & Weight Control!
Want to:

Exercise & work out at home?
Tone & define your muscles?
Burn fat & lose excess weight?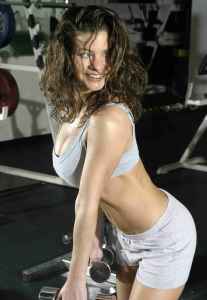 Many of you have e-mailed me since this site has been online with fitness, exercise and nutrition questions.
You:
Thank you for your motivation!
You have persuaded me to add personal fitness training online to the services I offer you.
Read on and see whether you recognise yourself.
Marketing people want you to believe that training the natural way

without supplements of doubtful benefit or performance-enhancing drugs
makes it impossible for you to win championships.

Of course they do - their profits and salaries depend on you believing their message.
It's totally untrue! I hold a total of 7 Championship Titles in World Aerobic Fitness, Swiss Aerobics and Miss Fitness Switzerland. I have never used ANY supplements or drugs!
With my training methods, you will achieve your maximum athletic potential the natural way - just you, your dedication and determination and my coaching. No artificial substance assistance required!
Please view the Miss Fitness Training Photo Slide Show to get an impression.
We will work together as a team - virtually - in the same way to achieve your personal fitness goals.

Results?


Take a look at Miss Fitness Switzerland. I trained six of the seven Miss Fitness Switzerland 2003 finalists - results: 1 - 4, 6 + 7.
Seen enough? Want to get going? Please view:
© Tanja Baumann 1996 - 2021