Miss Fitness Switzerland Competitor Training Show
Regular Exercise & Healthy Food = Fitness, Health & Weight Control!
Want to:

Exercise & work out at home?
Tone & define your muscles?
Burn fat & lose excess weight?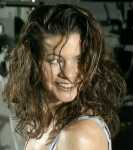 I use all my knowledge and experience when training Miss Fitness Switzerland Competitors like Danijela Kolakovic.
She wants to be a winner! Like all true competitors.
Miss Fitness Switzerland competitors whom I have been training competed against each other at the Swiss Miss Fitness Championship on 1st November 2003.
11 Photos: Toini Lindroos
© Tanja Baumann 1996 - 2021