Advice for Personal Fitness Trainer Students
Regular Exercise & Healthy Food = Fitness, Health & Weight Control!
Want to:

Exercise & work out at home?
Tone & define your muscles?
Burn fat & lose excess weight?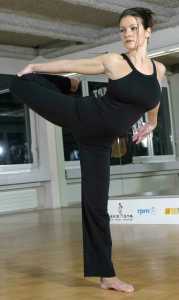 I often get e-mail from students, with questions about my job as a personal fitness trainer. Here are two examples:
I'm studying to be a personal trainer and it's required that I interview a personal trainer. The interview can take place by e-mail so I have listed the questions below and some information I need.


« Ricky, U.S.A., 18 February 2004 »

I am working on getting my Personal Trainer and Advance Personal Trainer Certification. I am taking the course through N.E.S.T.A. I am looking to interview a personal trainer for the course. The following are questions I need to get answers to in order to complete my course. I am excited yet nervous about starting out. If you have any pointers on getting started I would be very grateful.


« Francine, U.S.A., 18 February 2004 »
Since then I've received another e-mail with a few additional questions:
Thank you so much for he information on your site! I have been searching for a personal trainer to interview and your info helped me a lot (my husband and I are studying to become trainers now). I was wondering though, we need to know a few more things to complete our interview. I am sorry if this info is on your website and I missed it. We need to know - see list. If you could please email me back the answers to these questions we would really appreciate it! Thank you so much for your time!
« Sudbil and Casey, U.S.A., 23 December 2004 »
Wow, two on the same day, within 4 hours of each other, with exactly the same questions. Clearly the interest in personal fitness trainer accreditation is growing fast. It was a pleasure to reply to both Francine and Ricky. Here are the questions they asked and my answers to them as well as the questions raised by Sudbil and Casey in the list below:
Personal Trainer Answers
What advice would you give to a person who is now establishing a personal training business?
Answer:
Make sure you have a good background of knowledge, both theory and practice. Fitness is a tough business so you have to be passionate about movement and human health in general. Working in the fitness market is all about helping people feel good about themselves and reaching / achieving their goals. You need to love a challenge!
What is the best aspect of your job?
Answer:
It's a lovely feeling seeing a client's smiling face after a workout. With every person you learn more about fitness, both physically and mentally, and can incorporate that knowledge in your future work.
What is the least favorite aspect of your job?
Answer:
Well, you sometimes need nerves of steel and lots of patience. Being a personal trainer means being teacher, friend and psychological motivator all in one. But let's face it: A happy and grateful client is worth all the effort involved in every session!
What would you change about your job if you could? Why?
Answer:
I wish governments would see the importance of fitness in community health and involve personal fitness trainers in health matters. To prevent long-term illnesses I hope doctors, physiotherapists and psychologists will appreciate the value of personal fitness trainers more in future. Health and fitness is the key to happiness.
What type of clients do you prefer to work with? Why?
Answer:
Actually, I love working with all clients. Working with top athletes, improving their skills and putting together championship routine choreography for fitness athletes provides a great challenge. However, I greatly enjoy working with fitness beginners, motivating them to keep up their good work and seeing them pleased with themselves at the end of each workout. Every training session and consultation - with each and every client - is a great reward and inspiration to me.
How do you reduce liability?
Answer:
My training philosophy is to teach each client correct techniques and safe training methods and to explain them thoroughly - safety first is crucial to limiting liability. I strongly believe in teaching my clients about their own body awareness and my ultimate goal is to help them become self-assured, strong and independent. The results: I have conducted workouts / personal training sessions / master classes for more than ten years and none of my students or clients have ever been injured.
What is your client evaluation process?
Answer:
Ask yourself two questions:

What is my lowest price limit?
What amount of time am I prepared to invest in each client?

Set a reasonable price and limit extra time with each client. Try not to go over your time schedule. Whoever you are training with, support them and remember to make every workout an achieved goal. Ensure that every training session is fun. Be honest in your comments but recognize accomplishments.

Last but not least:


The only way you can genuinely motivate your client is by being enthusiastic about each consultation and workout you conduct with him or her. Prepare every workout in advance and take time off and plenty of breaks in between clients to fuel your energy levels and concentration.
© Tanja Baumann 1996 - 2021