Personal Fitness Trainer Online - Consent and Disclaimer Conditions
Regular Exercise & Healthy Food = Fitness, Health & Weight Control!
Want to:

Exercise & work out at home?
Tone & define your muscles?
Burn fat & lose excess weight?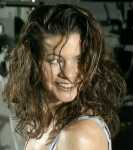 Medical Approval
Tanja Baumann, your personal fitness trainer online, strongly recommends that you consult your doctor and get medical approval before beginning any fitness and / or exercise program.
Registration Submission
By submitting the Online Registration Form, you acknowledge that:
Online Consent and Disclaimer Conditions
© Tanja Baumann 1996 - 2021