On May 6, in the Millennium year 2000, at 17:04 in Fibo Hall 6, the moment of truth arrived.
"Ladies and gentlemen the winner of the Miss Millennium Aerobic Fitness Title is contestant no.5 Miss Tanja Baumann!"
Yee hi! Tanja had done it again!
All the months of training heart, mind, body and soul had resulted in a never to be repeated title - at least not for the next thousand years.
«Tanja darling, thank you for the light you give us, may it always shine brightly. All our love and congratulations, your home team!»
LADIES and GENTLEMEN - A TOAST TO TANJA BAUMANN MISS MILLENNIUM!!!!
«When Tanja told us "I'm going for it", we slipped into the support role we had not filled since June, 1998 - the world championship aerobic fitness won by Tanja in Palanga, Lithuania.»

«For us, support role literally means total concentration and focus on Tanja's preparation for a championship as well as total support on the championship day.»

«As well as the after care.»
In spite of the chaos which is «normal» at these events, Tanja went through her warming up routine - 3 x! - , practiced her performance routine - «Kür» - 3 x! - and changed her costumes - 3 x! - as if she was in the best fitness studio in town.
But the truth is, she did all this on the concrete road of the trucker's parking lot, outdoors and in the sun.
Well, if there is no warm-up area and no changing rooms, what's a girl got to do but get on with it?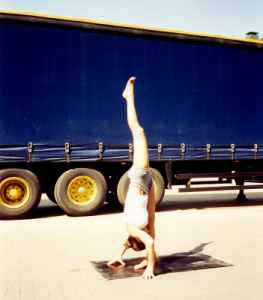 The waiting in long lines in the corridor of Hall 6 before it started.
The delays!
The wonderful Swiss fans - every time Swiss people passed us, they stopped, looked and asked her "are you Tanja Baumann?"
"Yes I am" she said, each time.
"Are you competing for the Miss Millennium Title?"
Each time she replied "yes, I am" - and then came the good wishes!
It was as if the whole of Switzerland was wishing her success.
The most wonderful encouragement you can imagine for an athlete in what is, essentially, a very lonely competitive sport.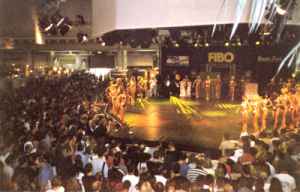 When Tanja presents her «Kür» on stage, she is totally alone and completely dependent on nobody but herself.
Thank you all Swiss fans for your best wishes given at the competition - your wishes were worth their weight in gold.
@ 13:00 the line-up - Tanja is totally concentrated but, as ever, wishes all her opponents the best for a good result. That's sportswomanship!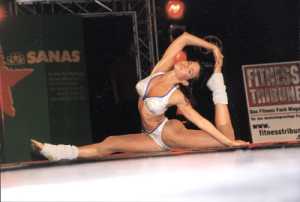 @ 14:00 the compulsories - she moves with a panther's grace into each pose and maintains it with an ease and confidence which tells us «she's very strong today.»
And at that moment the belief we had held for months changed to certainty "yes - she's going to do it again".
@ 15:00 the moment we've all been waiting for (none more so than our Tanja!) - THE PERFORMANCE - KÜR!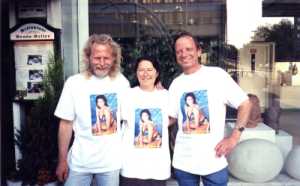 Once again Tanja's magic enthralled us all - fellow contestants, 100's of spectators, the professional dance troupe members, the judges (very important to "Tanja magic" them!) and anybody else within hearing or seeing distance.
Afterwards, your logical mind tells you that «it's the training - experience, it's in her blood, she is a true professional who has never missed a performance even when ill!»
Which is all true - but you don't think logically when Tanja gives a performance.
She takes the entire audience with her to places where logic is no longer relevant.
@ 17:04 - well as you already know, Tanja did it again.
On Saturday, 9th June 2012, I competed in the Universe 2012 Miss Fitness category. View the performance movies and some of the backstage photos on the Universe 2012 page.
Not sure where or how to start getting in better shape?
Start at home with my coaching and guidance -
View the fitness facts about DVD IN SHAPE: