Swiss Media: Sunday, 11th July 2004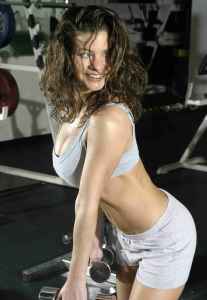 Personal Fitness Trainer Online
Fitness Consultant and Personal Fitness Trainer Tanja Baumann has launched her Personal Fitness Trainer Online service.
Tanja, multiple world aerobic fitness champion, is the first Swiss Personal Fitness Trainer to offer fitness training online.
As Tanja says on her site: "Many of you have e-mailed me with fitness, exercise and nutrition questions . . . " - see Personal Fitness Trainer Online.
These questions, from fitness surfers worldwide, motivated Tanja to offer her knowledge and expertise to the virtual world online. Her belief in the natural way to fitness, without supplements or drugs, has proven to be an inspiration for many.
Online Registration
A simple to follow 3 step registration process in English or German:
« Submit your registration »

takes you to the

« Thank you for registering page »

with credit card or bank transfer payment information.
That's it!
You have booked Tanja as your personal fitness trainer online!
Want to get fit with a world champion?
Register now!
Should you have any questions about this matter, please do not hesitate to contact me.
Best regards,
John Aarsen
Tanja's web master / business advisor
www.tanjabaumann.com