Press Release: Tanja Baumann New Site
Regular Exercise & Healthy Food = Fitness, Health & Weight Control!
Want to:

Exercise & work out at home?
Tone & define your muscles?
Burn fat & lose excess weight?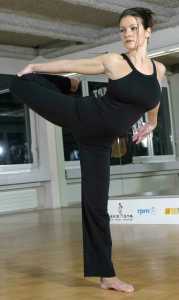 Swiss Media: Sunday, 17th August 2003
Hi Journalist,
On behalf of Tanja Baumann, World Champion and Miss Millennium Aerobic Fitness, I am pleased to inform you of the recent launch of Tanja's new web site @ tanjabaumann.com/.
Visit the site and enjoy it - Tanja believes that fitness should be enjoyable and her web site reflects this.
View Tanja's "natural way" approach to health and fitness.
See you @ tanjabaumann.com/.
Best regards,
John
Tanja's web master and business advisor
Get IN SHAPE now @ IN SHAPE with Tanja Baumann Aerobic Fitness Workout Video / DVD
Read the Blick Mini-Klatsch reply: TANJA IM NET, André Häfliger, 19th August 2003
© Tanja Baumann 1996 - 2021