WFF Switzerland - Swiss Athlete / Competitor Information
Regular Exercise & Healthy Food = Fitness, Health & Weight Control!
Want to:

Exercise & work out at home?
Tone & define your muscles?
Burn fat & lose excess weight?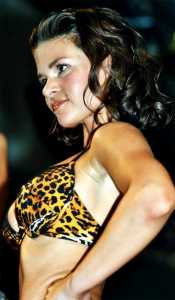 Complete and submit the WFF Switzerland Athlete Registration.
Tanja will add you to the list of Swiss competitors and she will contact you with further information as it is released.
Visit this page regularly for the latest WFF news about competitions and results.
World Fitness Federation WFF Switzerland Championship rules for competitors / athletes, competition categories and age groups, and the World Fitness Federation WFF Switzerland registration form are available @:
A message from Klaus Hoffmann to all competitors:
Music: German law prohibits the use of self-burned CD's for posing.
You may only use CASETTES or ORIGINAL CD'S for posing.
If you arrive with your music on a self-burned CD, you will be disqualified from entry to any WFF Championship held in Germany.
No fire on stage, no striptease or pornographic - too revealing - clothes.
The WFF expects athletes to show creativity in posing and to dress in proper - athletic competition - outfits.
© Tanja Baumann 1996 - 2021