Links Directory: Submit URL - USA Form
Regular Exercise & Healthy Food = Fitness, Health & Weight Control!
Want to:

Exercise & work out at home?
Tone & define your muscles?
Burn fat & lose excess weight?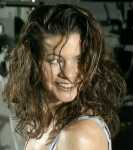 Submit Your Site
Hi fitness webmistress or webmaster, welcome to my USA directory site submission page.
Directories based in Europe, Australasia, Asia, Africa and the Americas - except for the USA - have their own International links directory submission form.
You have read, understood and accept our:
Go ahead, complete and submit the form below and we'll get back to you quickly.
All fields marked * must be completed to successfully submit your site to the Tanja Baumann Links Directory.
Thank You for Your Site Submission
On selecting the Submit Site Button, you will be re-directed to the form success page to review the information you submitted.
If you need to make any changes, use your browser back button to return to this page.
Your information will have been saved in the completed form fields so you won't have to start all over again.
Just make your changes and submit again.
More information about the submission process is provided on the form success page.
© Tanja Baumann 1996 - 2018