Links Directory: Submit URL - Banners
Regular Exercise & Healthy Food = Fitness, Health & Weight Control!
Want to:

Exercise & work out at home?
Tone & define your muscles?
Burn fat & lose excess weight?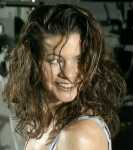 Hi fitness webmistress or webmaster, welcome to my banner page.
Please download one of my banners if you wish to display it on your site - no hot-linking welcome here!
I would really appreciate it if you would add the following banner alt. text to your HTML code:
Tanja Baumann Fitness Consultant and Personal Trainer.
We only exchange text links, so using one of our banners is an option and remains your decision - after all, it's your site, right?
Tanja Baumann Banners
© Tanja Baumann 1996 - 2021