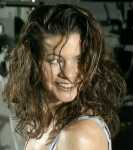 Hi fitness visitor, welcome to my international personal fitness trainer certification, education and careers links directory.
Here you will find links to the leading international personal fitness trainer certification and education authorities in the fitness and fitness-related leisure service industries, as well as their location by town and country.
All sites on this page are based in Europe, Australasia, Asia, Africa and the Americas with the exception of USA-based sites, which have their own USA links directory.
Serious about becoming a certified personal fitness trainer?
Your first step is to research the personal fitness trainer education programs offered by our links.
Visit these sites, compare their courses and choose the course that fits you.
After that, it's over to you - hard work, perseverance and genuine enjoyment of your chosen career will get you certified.
International Directory Web Links
Yandara - offers yoga teacher training and certification at the Yandara Ocean front Retreat. Emphasis on yoga practice, including meditation and kirtan, and teaching skills such as organizing a class, creating confidence and making posture corrections - Todos Santos, Baja, Mexico.
Emergency First Aid Courses - provides first aid training courses for emergency assistance. Committed to providing a fun and interesting way to learn essential life skills. Personal trainers need this type of knowledge to be prepared for accidents in the gym or aerobic studio - Melbourne, Australia.
Webmasters - Reciprocal Links
To add your site to the international personal fitness trainer accreditation, certification, education and careers international links directory, please:
Thanks for the link!