Nutrition and Weight Loss Books USA Links
Regular Exercise & Healthy Food = Fitness, Health & Weight Control!
Want to:

Exercise & work out at home?
Tone & define your muscles?
Burn fat & lose excess weight?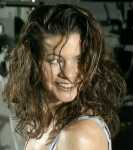 Hi fitness visitor, welcome to my USA nutrition and weight loss books links directory.
Here you will find links to fitness books, e-books and publications about nutrition planning and natural-based weight loss planning and exercise routines provided by sites in the United States of America, as well as their location by town and state.
Nutrition and weight loss book authors based in Europe, Australasia, Asia, Africa and the Americas - except for the USA - have their own International links directory.
USA Directory Web Links
Fat Vanish - lose weight without supplements or drugs - Gaithersburg, Maryland.
Burn the Fat, Feed the Muscle - Tom Venuto. Lose body fat naturally with the new e-book that reveals the fat burning secrets of the world's best bodybuilders and fitness models. Discover how to permanently lose body fat without drugs, supplements or fad diets - Hoboken, New Jersey.
No Paper Press - publishes fitness, weight control, exercise and nutrition eBooks with U.S.A., metric and U.K. editions and maintains a health directory listing of other publisher's eBooks - Eugene, Oregon.
Nutrition & Weight Loss Books
Webmasters - Reciprocal Links
To add your site to the USA nutrition and weight loss books links directory, please:
Thanks for the link!
© Tanja Baumann 1996 - 2021